Back To Menu
Super Hero
Made on rustic ciabatta. 
Choose:
Muenster Panini, Fried Chicken, Grilled Chicken Club, Italian, California Turkey, Chicken Parm
(Serves 6-8 People) ea.
$60
Have you tried this item? Pop it!
Help other diners know what to expect by sharing your experience.
1 person has popped this item
Photo Gallery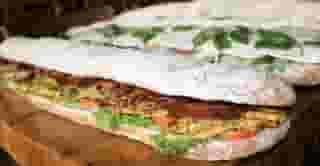 Back To Menu
Super Hero
Made on rustic ciabatta. 
Choose:
Muenster Panini, Fried Chicken, Grilled Chicken Club, Italian, California Turkey, Chicken Parm
(Serves 6-8 People) ea.
$60
  Back To Menu